10 Nov 2021
Bienal de São Paulo Behind the Scenes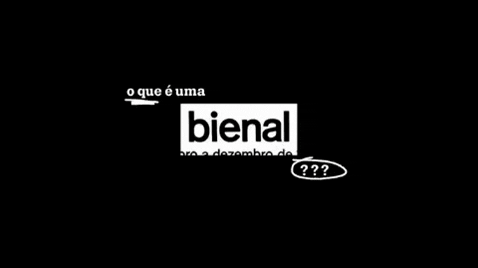 Fundação Bienal de São Paulo releases web series about the Behind the Scenes of the Art Bienals, sponsored by Bloomberg
Bienal de São Paulo is the biggest contemporary art exhibition in the South Hemisphere and the second oldest in the world. Each edition generates uncountable news in Brazil and around the world, but very little is known about what is necessary for this big event to happen successfully, which teams are involved in its making, and what happens, in the Bienal Foundation between one edition and the next. To present  a look behind the scenes of the Bienal to students and the general public, giving visibility to professionals of several areas who work at the institution, Fundacao Bienal releases, on November 10, the web series "Behind the Scenes of Bienal", which was sponsored by Bloomberg, one of the institution's main partners. 
Divided into six episodes of approximately five minutes and a teaser, the web series dives into the backstages of a Bienal de São Paulo to answer questions, such as: What is a Bienal, and why is it different from a museum or a Gallery? Who selects the artworks? How are they brought to the Bienal Pavillion? What happens to them after the exhibition? What professionals make the Bienal happen? To answer these and other questions, artists, curators, researchers, architects, and professionals of the Art world have been invited to give testimony about their work and relation with the Bienal.  
These statements are part of an informal narrative, illustrated by animations, pictures that are part of the Bienal Historic Archive, and other visual references (including big movie masterpieces), brought together on a dynamic and unpretentious edition. The official launch happened on the Fundação Bienal Digital channels, with the release of episode 1, "What is a Bienal?", on Wednesday, Nov 10, at 9 PM BRT. The following episodes will be released weekly, always on the same weekday and time. The last episode airs on December 15, after the closing of the 34th Bienal. Entitled "And when it is over, is it over?", the final episode presents what happens when a Bienal edition is over. 
All episodes have English subtitles and interpretation in Brazilian Sign Language, making it accessible to many audiences. 
Watch all videos below! 
Teaser
Episode 1: What is a biennial?
Episode 2: Choosing the artworks
Episode 3: Transporting the artworks
Episode 4: Assembling the exhibition 

Episode 5: Welcome, visitors! 

Episode 6: What happens when i's over?